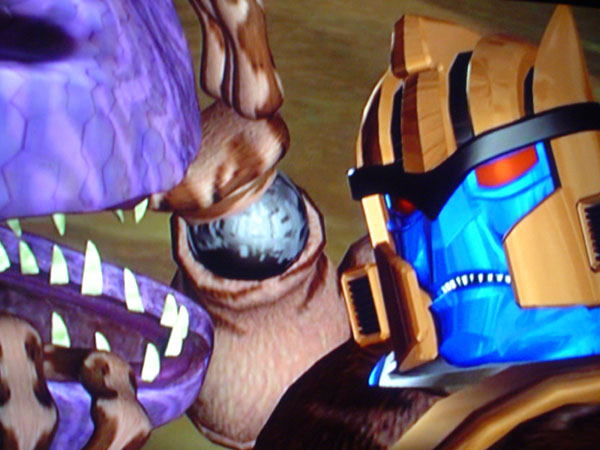 "Umm, Dinobot? When the expression says, 'snatch victory from the jaws of defeat', that's NOT what they had in mind...." (By Outtsyder)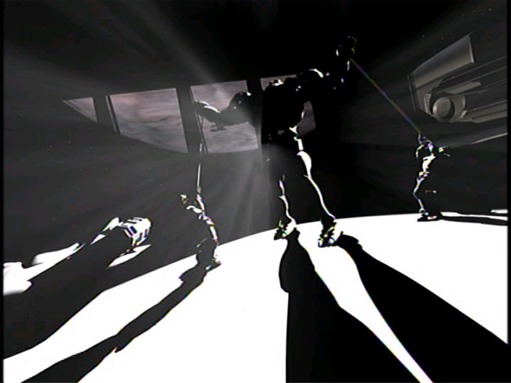 Rampage: Are we playing tug-of-war or monkey in the
middle? (By Master Solo)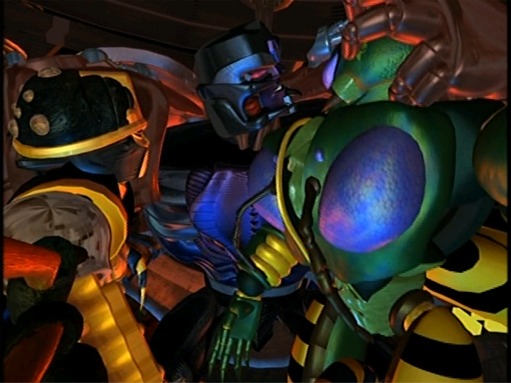 Megatron: My daughter, I have arranged for you to marry our family friend, Waspinator on Wednesday. Is this fine with you?
BA: Yes, Daddy, but only if heíll do what I say.
(By Master Solo)
(Note from Master Solo: I mean no insult to any BA/Tarantulas or BA/SB shippers, Iím just making a joke out of my thoughts when I first watched Bad Spark as a little kid.)
(By Mairilyn)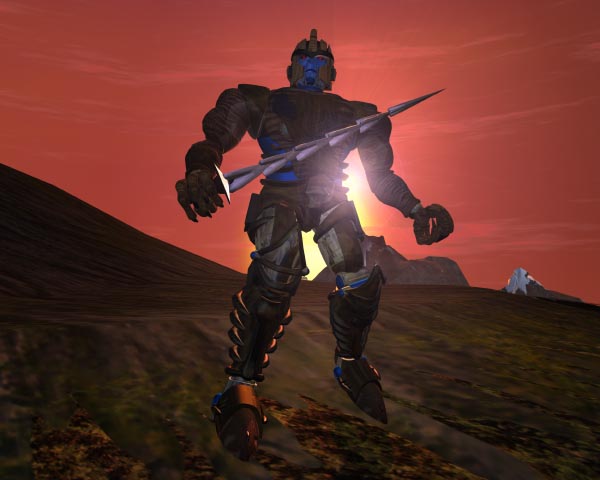 Photographer: Bring the sword up a bit... a little to the left... let the sun outline you. Don't forget, Dinobot, you're Cybertron's next top male model and advertising the sword!
Dinobot: *snarl* I am a warrior
Photographer: That's right, become the subject in the picture. (By: Master Solo)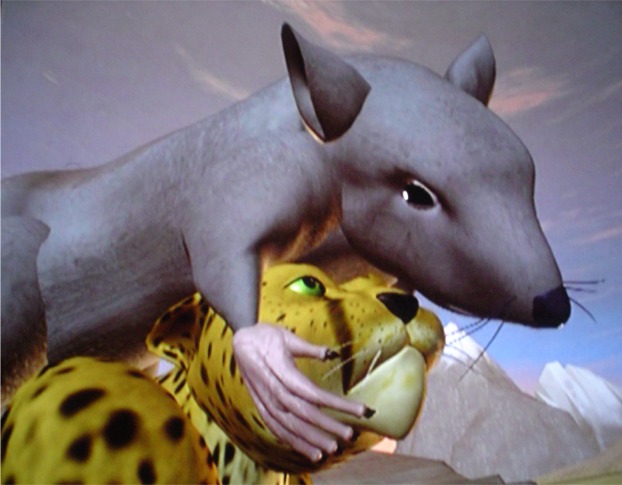 Rattrap: Did I tell you you have beautiful optics, spots?
Cheetor: Shuttup Ratface. (By Mairilyn)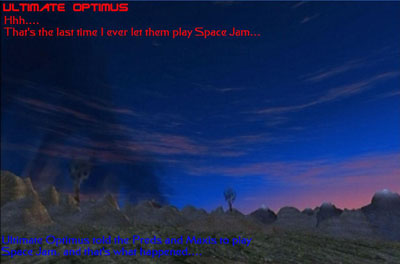 (By Ultimate Optimus)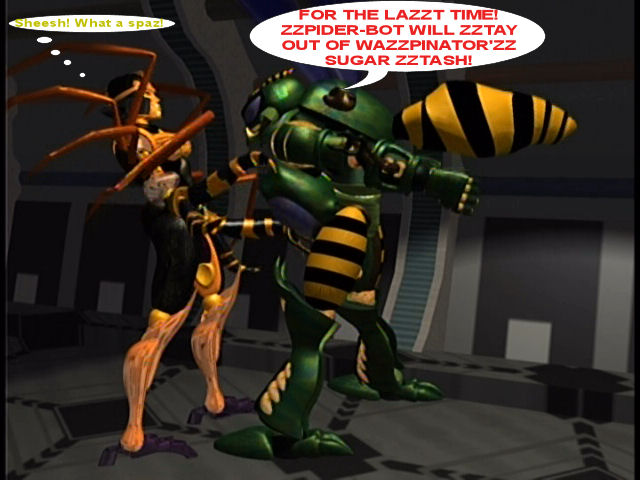 (by Lessel Snowstar)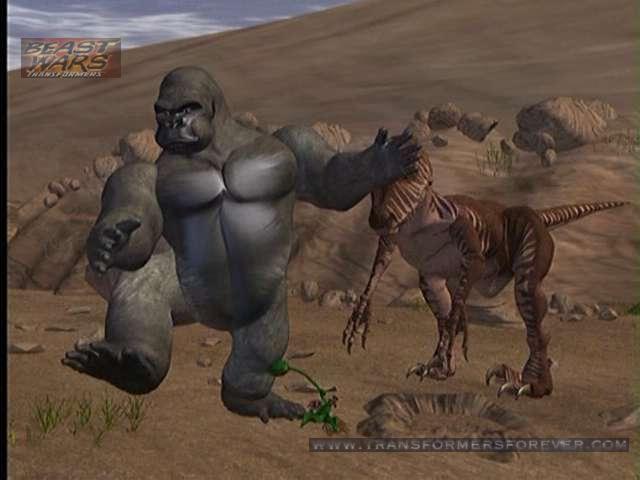 DB: Optimus, this is not 1979, you don't have an afro and you cannot disco dance!
Optimus: Can you dig my groovy beats?
DB: And you're giving Megatron something new to laugh at!
Megs: Whahahahahahahaha! *rolls on floor holding his sides*
Optimus: Dagnabit! My disco sense is tingling! Disco ball cannon! *launches disco balls at Megs, with DB looking on in awe*
Megs: Aaaaaargh!
DB: Why do I work with such imbeciles? ( By Mairilyn)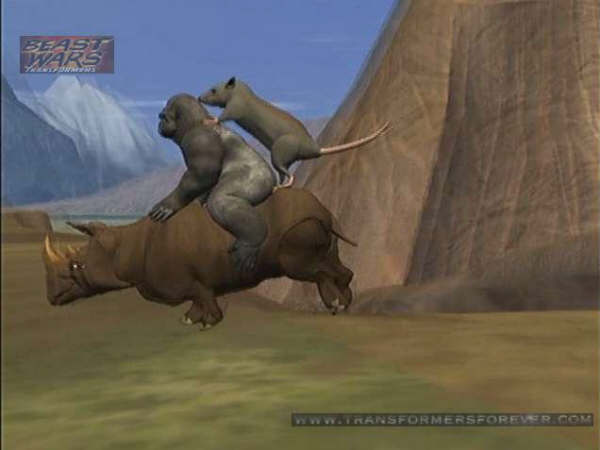 Rattrap: Um, not tryin' ta be a pain-in-the-rear, but where are our shadows? Optimus: Good point. Rhinox? Rhinox: Hmm.. I dunno. Why do I feel like I'm flying? (By Safeguard)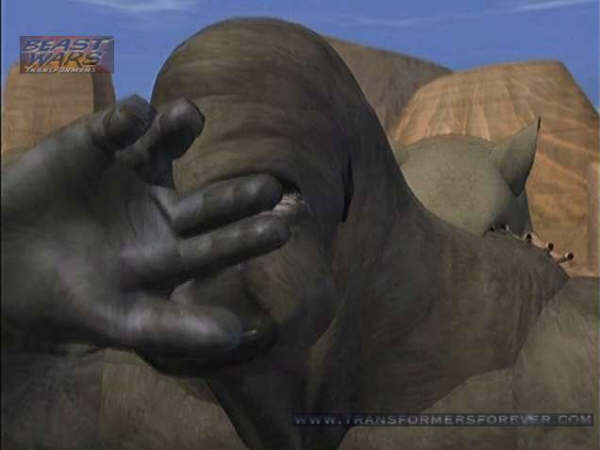 Optimus: AAAGHHH! GETITOFF, GETITOFF! Rattrap: Sheesh... some bots just aren't made for on-screen work... (By Safeguard)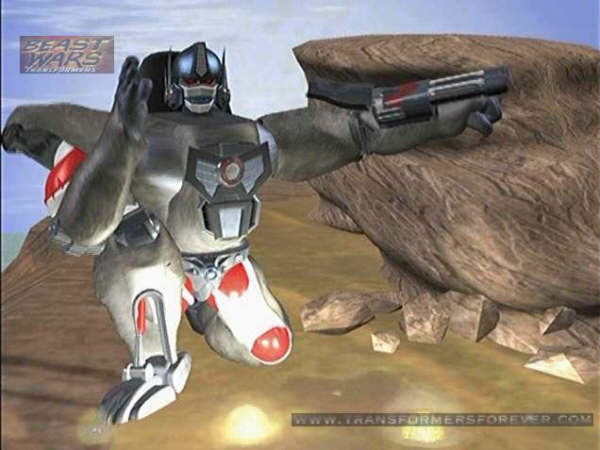 Optimus: AHOY! This rock is kinda sturdy, so can someone fetch Rhinox? Good. Tell him that Rattrap was playing with the explosives again and it's Cheetor this time. (By Safeguard)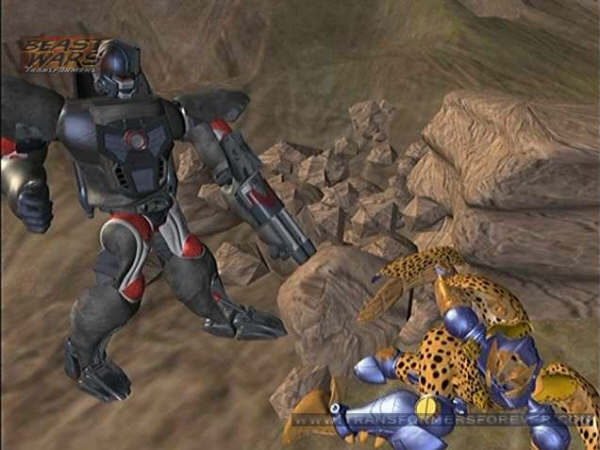 Cheetor: So, Optimus, you expect me to talk? Optimus: No, Cheetor, I expect you to die. Rattrap (offscreen): They've seen James Bond one too many times. Rhinox: I just knew we shouldn't have signed up for Digital Cable... (By Safeguard)
---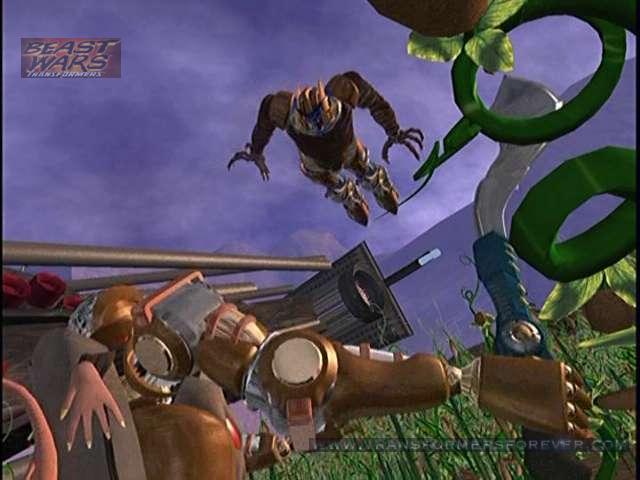 Dinobot: YOU'RE GOING TO PAY VERMIN!
Rattrap: DINOBOT I SWEAR I DIDN'T TELL THE FANGIRLS WHERE YOU LIVE - (By Una)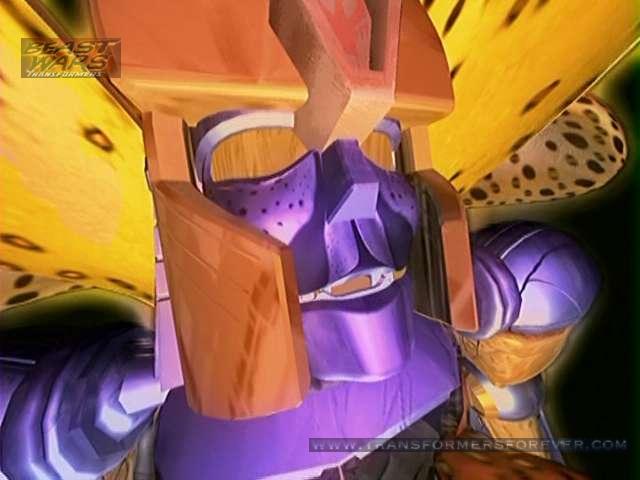 CHEETOR: OHHHHHH SHINY
RHINOX: DON'T GO INTO THE LIGHT CHEETOR!!! DON'T GO INTO THE LIGHT! (By Una)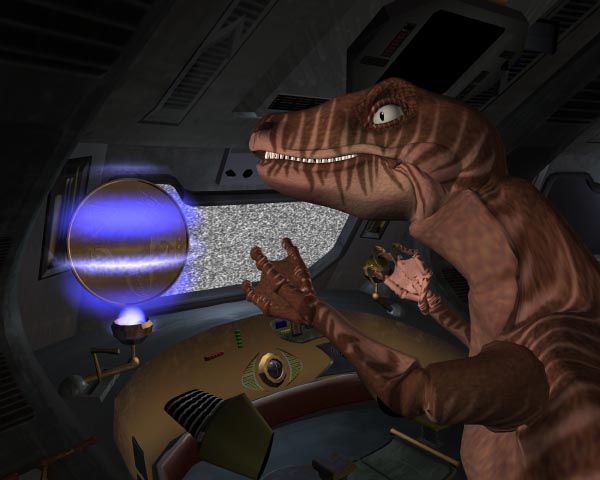 Dinobot: Why is this Golden Disk floating here?! It's making me
pizza-hungry!! (snorts) And what's wrong with our slagging TV?! I'm going to
miss "The Last Samurai"!! (snorts again) GO FIX THE SLAGGING ANTENNA,
VERMIN, IF YOU VALUE YOUR PITIFUL LIFE!!!!!
As you can see, Lizard Lips has had a bad day.. (by Daniel)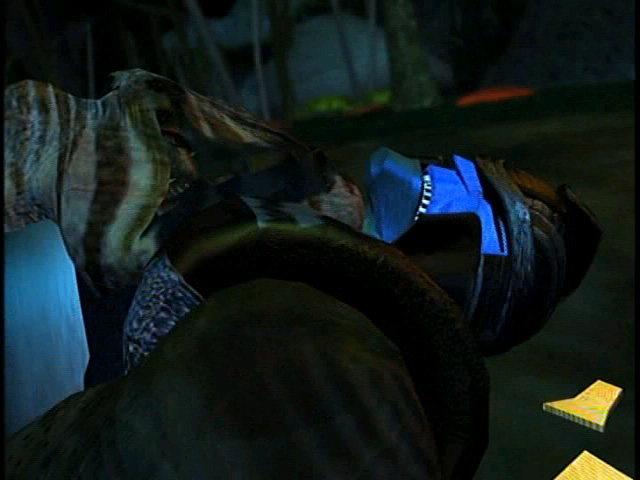 "Cheetor: Jumpin' gyros! What happened?"
"Dinobot: (with an exhausted tone of voice) 3 words: Paparazzis and
fangirls." (by Daniel)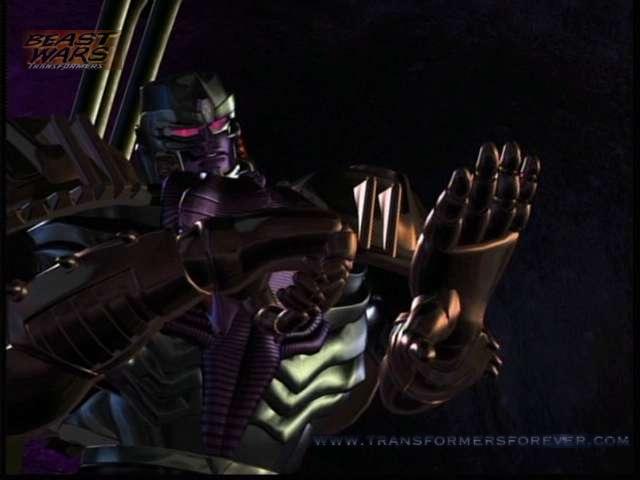 Megatron: Oh Dear! I broke a nail yesss! (by Una)
Rhinox: *munch.... chew...munch.* "Who knew cheetor's secret chocolate stash would be in the Ark bathroom! munch" - (by Waspimus Prime)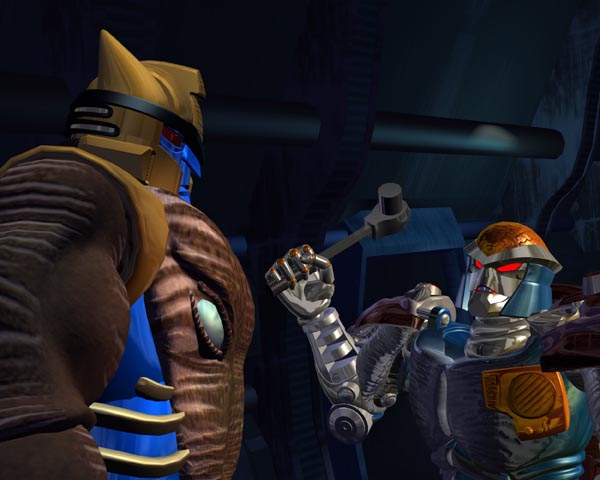 Dinobot: Out of my way, vermin!
Rattrap: Back off, chopperface! I am armed!
Dinobot: And what are you going to do? Stub my toe?
- (by Daniel Vindas Villamil")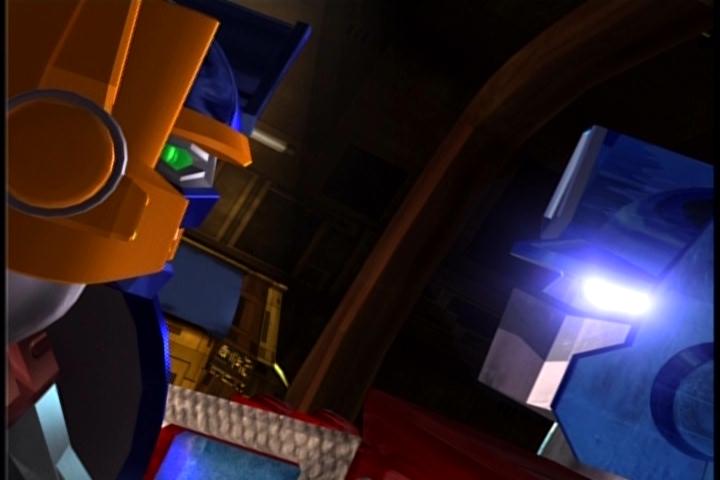 Optimus Prime: Bring me a Taco. - (by Julia.)
----------------------------------------------
Click here for Sapphire's pictures and caps.
Click here for Roxy's personalized pics and caps.
Click here for Jagna's pictures and caps.
Click here for Beast Machines pics and caps.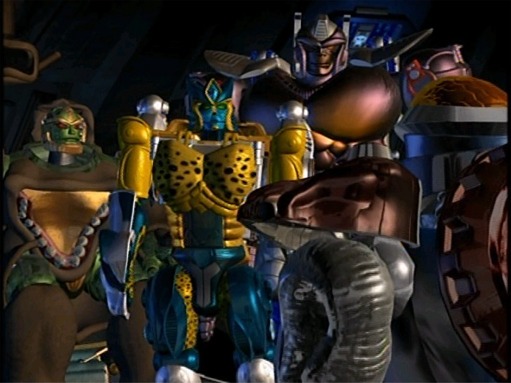 It's a team picture, so we need everybody. That
means, Silverbolt, Dinobot, Rattrap, Tigatron,
Airrazor, get in the picture and smile! (By Master Solo)
---------------------------------------------------------------------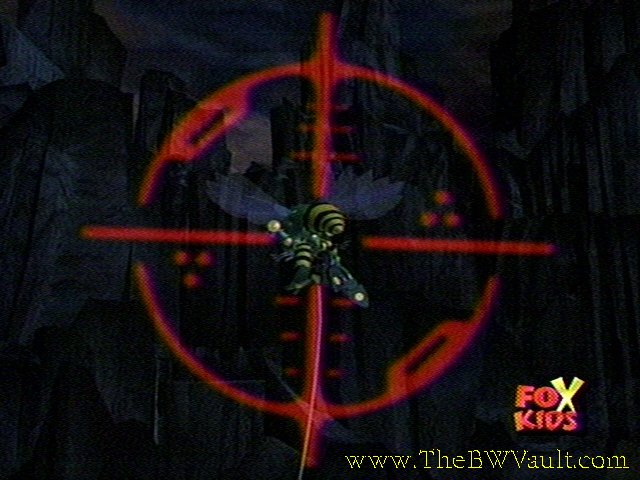 Terrorsaur: This outta teach him for telling Megatron I stole his rubber ducky... EAT LEAD BUG BOT! (By Wicked Woman)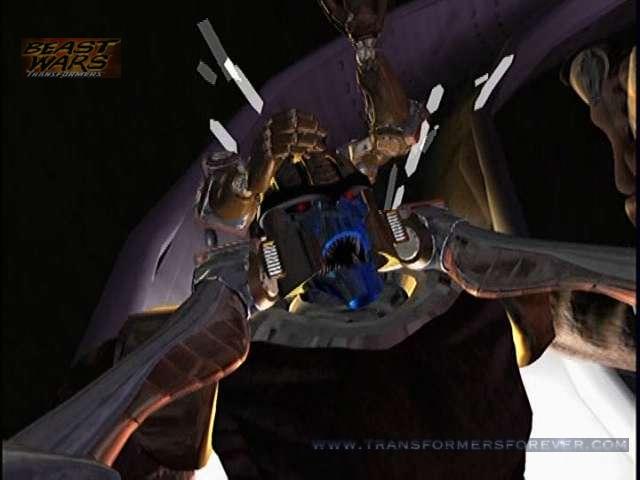 Rattrap: Piggy Back Ride!!!! Dinobot: Get it off!!! GET IT OFF!!!!! (By Caleb)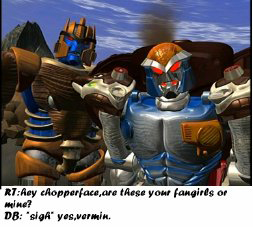 (By Mairilyn)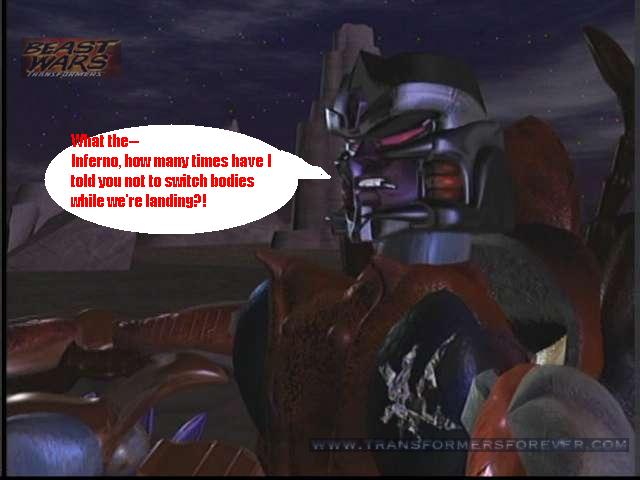 (By: UltimateOptimus)
Megatron tried his hand at making a clone that mimics every move the person makes just to annoy Dinobot (By Wicked Woman)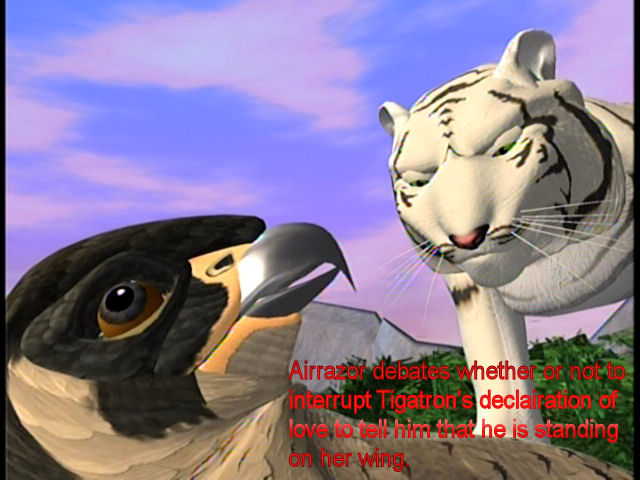 Airazor debates whether or not to interrupt Tigatron's declaration of love to tell him that he is standing on her wing. (by Lessel Snowstar)
---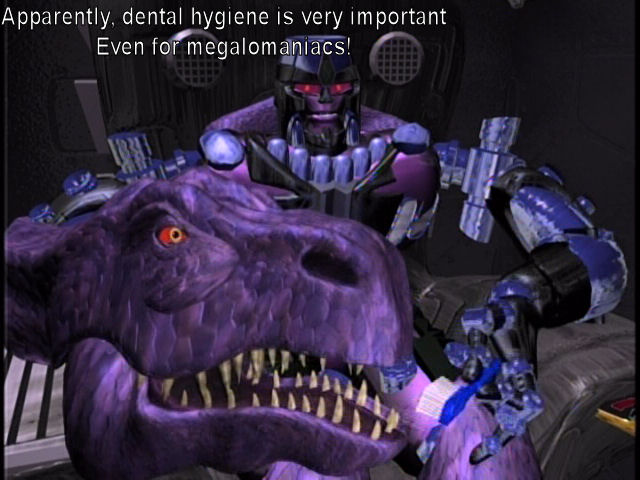 (by Lessel Snowstar)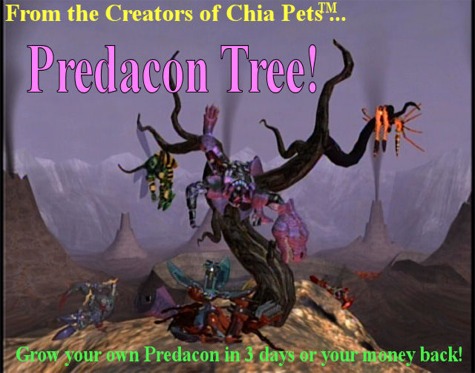 (by Lessel Snowstar)
--------------------------------------------------------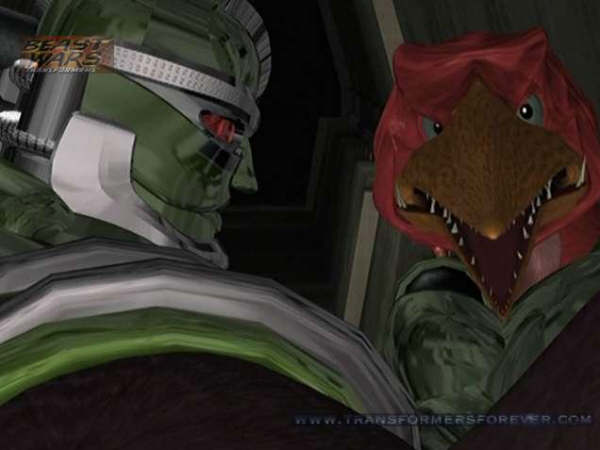 Terrorsaur: .....And here we see an example of the 'psychotic personality'.... Rhinox: Oh, just shut up, willya? *choke* Terrorsaur: SQUAWK! See what I mean? (By Safeguard)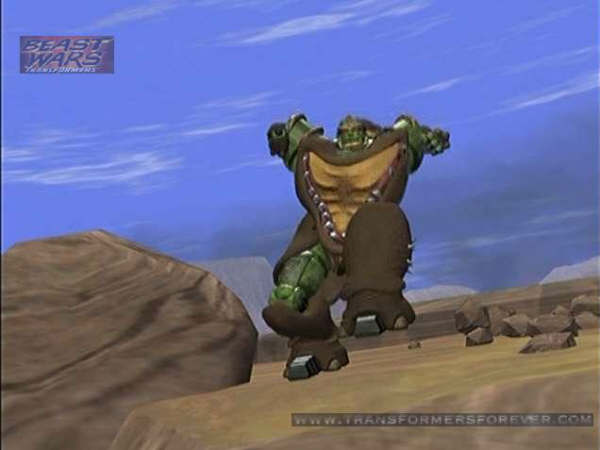 This is Rhinox getting into the groove. (By Safeguard)
And this is Optimus doing the same. :D (By Safeguard)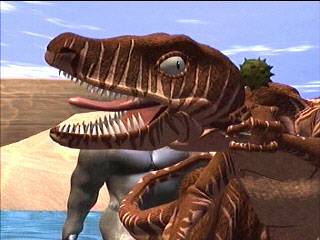 Dinobot: GAGH! Optimus Primal, I know you like to pull pranks but this real life! This isn't a cartoon ya know! (By Steve Church)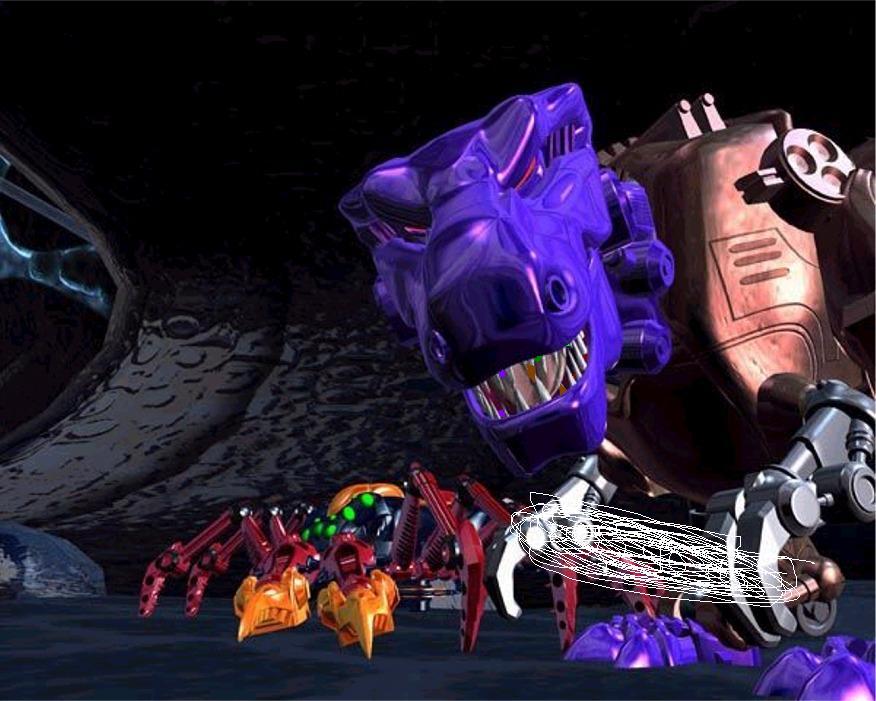 Meg: Tarantulas what is this so called floss for? Tarantulas: It's to clean you teeth...." (By Violet)
-------------------------------------------------------------------------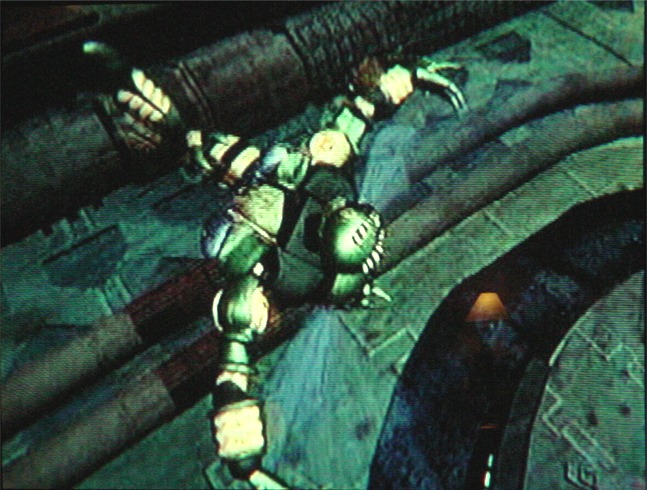 And this is only after 1 bag of sugar. (By Ace)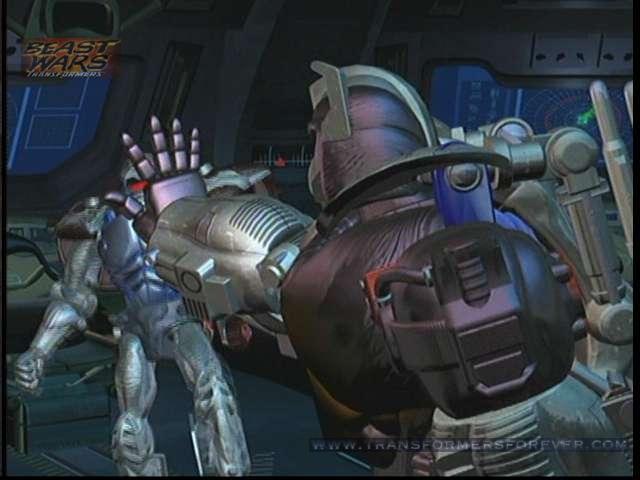 Optimus: don't look at me, I'm too beautiful! (by Ember Primal)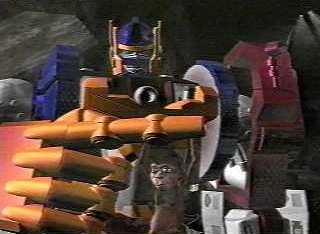 Optimus: Ok I can transform into a lot of things, but I can't transform into a playground so GET OFF! (by Ember Primal)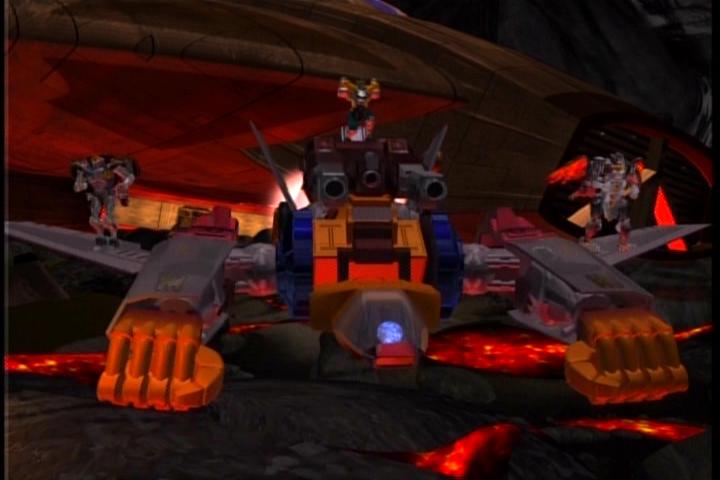 Here comes the S.L.A.G. squad to the rescue! (By Daniel)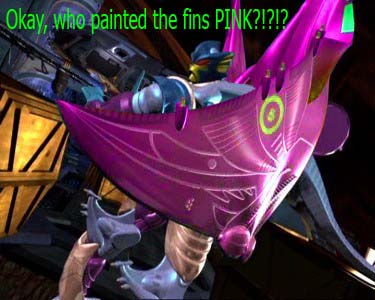 (by Lessel Snowstar)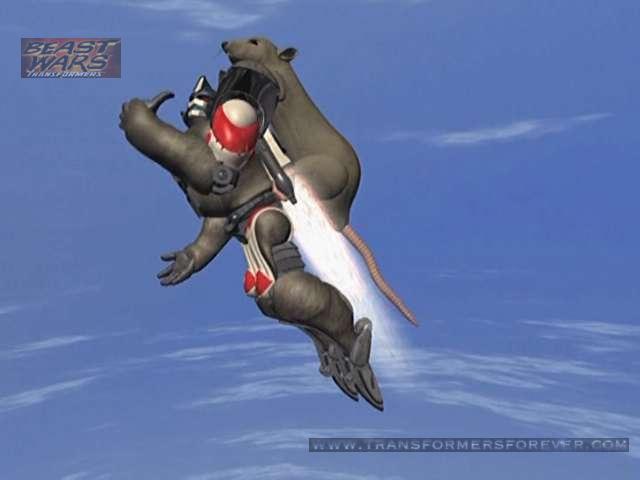 Optimus: Hey, Look at my Ratpack!- (by Una)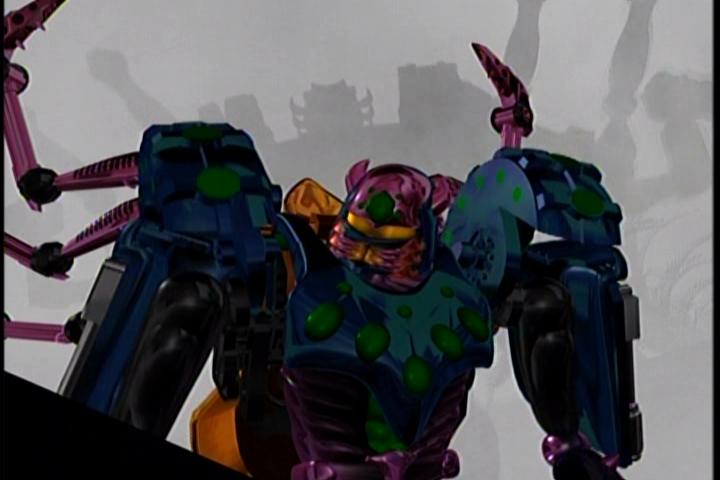 Rampage: It's the Boogeyman! (by Onyx Wing)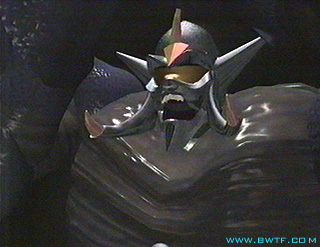 It appears he finally got the script for Aftermath. - (by Pavel)
------------
Got any funny Beast Wars pics? Have some funny caps to go with them? Send them in to malachite157@yahoo.com