Fan Fiction by:
Mark Harris
Series: Beast Wars Revived Again
Optimal Optimus never got all the stasis pods off Ancient Earth, Primal Prime found more and
rescued as many as possible, but he also failed to get them all. Now it is a brand new Beast
Wars and now the newest Maximals, some old Predacons, and some Vok start a brand new
Beast Wars where time and space are victims to it.

Welcome to the Pit Maximal Scum

Let Slip the Dogs of War, For We are Ready to Destroy!

All Good Things Come to an End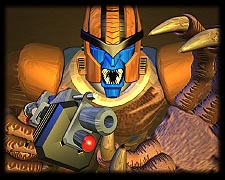 Send Mark Harris your comments
Site Design: Sapphire. Created by: Sapphire, Miss Special, Hacker, Blaze Raptor, Pacerpaw and Araneae. Bwint.net is copyrighted to the bwint.net team.
Disclaimer: Beast Wars Transformers and its respective characters, plots and images are a product of Hasbro, Alliance and Mainframe Entertainment. Neither the owner nor the Bwint.net team and visitors claim any rights to it. This is a non-profit fansite. Original template designed by JSB Web Templates